Custom wood stand up paddle boards – beauty and performance
Solarez UV Cure SUP Pro Travel Kit - Epoxy Surfboard Repair Kit
The process of building a paddle board in 4 minutes 19 seconds
Stand Up Paddle Board Construction from simon winograd on Vimeo.

Why build a custom wood stand up paddle board?
Before automation and assembly lines, there were builders in wood. There is satisfaction in crafting something using traditional materials, especially when you embrace the challenge to build something you will use and love. By building it yourself, you can customize your ride for a uniquely personal experience from start to finish—on the water!  
Carve Industries Nosh from Carve on Vimeo.
Pre-made and custom made:
You can have a board built to your specifications with companies such as Barefoot Boards http://barefoot-boards.com, you can purchase a predesigned board, you can do-it-yourself with a pre-cut kit, or take a course with an expert to build your board. See links, below.
Note: to match a paddle to your custom wood stand up paddle board, follow this link.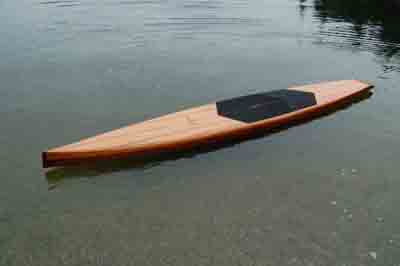 From North Vancouver,  British Columbia, a hand crafted stand up paddle board by Kelvin Humenny.
MAKE IT YOURSELF KITS
KAHOLO SUP (kits)
http://www.clcboats.com/shop/boats/surf_boats/kaholo-stand-up-paddleboard.html
Build in one week
• Kaholo 14
• 14 ft length
• 4-5/8 in thickness
• 29-1/2 in width at the rail
• 27-1/2 in width at the waterline
• 32 lb
Kaholo 12 ft 6 in
• 12 ft 6 in length
• 4-1/2 in thickness
• 29-3/4 in width at the rail
• 28 in width at the waterline
• 29 lb
•  marine plywood
•  kits include premium nonskid deck pads, breather tubes, custom laminated skegs, and manual.
Building a Kaholo Board – accelerated time frames
---
"Building my SUP"
DESCRIPTION: Olympia, Washinton, U.S. - sign up for a beginner class on how to build your own wood stand up paddle board with a supplied farm kit.
Link: http://www.hollowsurfboards.com/index.htm
CUSTOM WOOD PADDLE BOARD COMPANIES
BAREFOOT BOARDS (Oregon, Washington, U.S.)
• reuse a high percentage of salvaged wood
• hollow construction - no foam core
• solid wood - no veneer
• lightweight and strong
CUSTOM GRAIN (Waterford, MI, U.S.)
http://www.custommade.com/stand-up-paddle-board/by/dammanwoodworking/
• 14 ft displacement hull
• plywood
• 1 layer 4 oz. fiberglass
• $1100.00 - $1500.00
---
---
back to stand up paddle boards
Home – where it all started
Conventional stand up paddle boards
---