Paddle boards - Video
Dockslocks locking system
Stand up paddle boards come in a variety of styles and materials, so it's good to explore the options before you buy. These great informational videos will help you narrow the field so you find the SUP that's right for you. Learn about board style for flat water or swells, casual paddling or racing, and why construction materials and methods matter. Explore these links for the ABCs of SUPs.
Race SUP: Displacement hull vs. Planing hull
By Blue Planet Surf
This video talks about the difference between displacement hulls that are faster in flat water and planing hulls that are faster in downwind conditions.




Types of paddle boards
By Eastern Mountain Sports
A quick overview of shapes of nose tail and hull and what to expect from each different board shape.
---
---
Displacement style hull
By Vermont Skiand Sport
Quick overview of a displacement hull for touring and racing.
SUP Board construction
Produced by Blue Planet
A shaping machine is used for the rough cut. Another machine then makes the finer cuts. The blank is finally hand sanded then ready for glassing and layering. The layers of glassing and the wood or bamboo finish is explained. The rails have extra layers of glass for protection from scraps, bumps and dings. Blue Planet claim chip resistants rails. Both cruising and racing boards are covered.
ATX Factory Tour – How SUPs are made
By SUP ATX
The video gives a revealing overview of the process of building a board. Note: not all boards are constructed the same. To understand more on board construction go to SUP construction.
---
---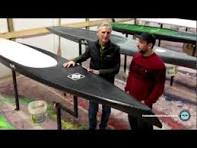 Black Box carbon race board shown in above photo. See video for more details.