Not all SUP board construction is equal! Straight Talk About SUP Manufacturing
SUP board construction is important! The construction quality affects your board's longevity, handling, durability and performance.
Manufacturing quirks and technical issues associated with traditional surf boards, kayaks and windsurfing boards were sorted out long before stand up paddle boarding became popular. As a result, development of top quality equipment for the sport was relatively speedy thanks to pre-existing technology. Today there is a diverse range of SUPs and associated gear to choose from.
The information below refers to the most common construction methods. Custom high performance SUP board construction is more complex and is not included here. 
The following video and link provide an introduction to SUP board construction.
Dockslocks locking system
---
SUP board construction highlights

Sandwich epoxy: 
This style of board is durable, light, and buoyant. A wood or bamboo veneer is applied at the bottom and deck. Bamboo is stronger than steel and more durable than most hardwoods. This style includes a stringer made of wood or fibreglass inserted along the length of the board. 
Key considerations:
Quality varies from mid to high depending on the manufacturer.
Consider this sandwich epoxy construction for wave surfing, freestyle, flat water, or all-around board.   
Explanation of sandwich epoxy board
Carbon:
This construction style can feature additional layers of fibreglass. Carbon is used for its lightweight, strong and rigid attributes. This board is reinforced with PVC.
Key considerations:
Again, quality varies from mid to high depending on the manufacturer.
Consider carbon construction for wave surfing, freestyle, flat water, or all-around board.   
Review for a carbon construction board in the following video.
Pop-out: 
This construction style is longer, wider, and thicker, making these boards more difficult to get onto your vehicle rack and carry down to the water, but easier to learn on because of their high volume, which translates to greater stability. A "soft top" is a layer of rubber added to the top surface for protection and comfort. The soft top is typical on larger, heavier commercial-style boards geared to beginners.
Key considerations:
Quality varies, but overall these are lower-cost starter or family boards.
Consider pop-out construction for flat water fun. These boards do not get a high rating for performance.
Board Quality
Pay attention to the level of quality for SUP board construction
Traditional board manufacturing in Taiwan has long been known for quality and for hand-crafted boards. To keep up with increasing demand, companies in China have been contracted to produce boards more quickly. These boards generally cost less, and in most cases you get what you pay for. If you come across wildly low prices it probably means corners have been cut during manufacturing. There is obviously a market for low cost boards since consumers are purchasing them. Simply put, be aware, and ask plenty of questions. 
There are some smaller manufacturers in the U.S. and Canada who offer superior custom board manufacturing.
FOAM CORE FOR SUP BOARD CONSTRUCTION
Polyurethane (PU): 
PU is the original foam inside most fibreglass boards, along with polyester resin. This was standard until about 2005, when Expanded polystyrene (EPS) came on the scene. 
Expanded polystyrene (EPS): 
EPS foam is about 60 percent lighter than PU and is always combined with epoxy resin. These boards are also stronger and more buoyant than PU. EPS foam core is now used for most stand up paddle board construction. High quality EPS reduces water absorption (it is water resistant, not water proof). 
The EPS board will outlast the PU board, however some wave surfers prefer PU because it allows for more flex. 
HAND SHAPING
The following video explains the hand shaping process from a "blank."
by shaper Paul Carter
COMPUTER SHAPING
The following video gives an interesting explanation of the computer shaping process.
by Blue Planet Surf
---
---
FIBERGLASS CLOTH and RESIN FOR BOARD CONSTRUCTION
Cloth:
The amount and weight of the cloth fibreglass applied will influence durability strength. Typically, more fibreglass is placed on the deck side of the board to give more strength in the standing area, although depending on the board style it could be applied to other areas as well.
Resin:
Either epoxy or polyester resin is used to keep the fibreglass cloth in place. Epoxy resin is lighter than polyester resin, and epoxy boards are stronger, lighter and stiffer than polyester boards. 
NOTE: the quality of fibreglass and resin used can vary. It can be matte or clear gloss, light or heavy. If you have questions about these details, contact the manufacturer.
Vent plugs:
A vent plug is installed on EPS foam boards to release gas buildup when the board is exposed to heat or extreme altitude changes. The ability to vent gas discourages potential delamination. Some vent plugs need to be physically removed and screwed back on before the next ride. A newer style of vent can release the gas on the water, without letting the water in.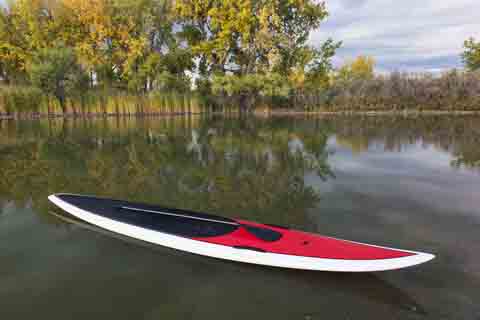 ---
back to stand up paddle boards
Home – where it all started
---