Sup kids - just add water
Kids are thirsty for fun, and stand up paddle boarding delivers. SUP kids are finding the thrills of racing and wave riding, or discovering a whole new spin on an ancient practice with SUP yoga. There's some big money in races for the junior category, particularly in North America, sending fearless young SUPers hunting for the perfect wave with an eye to the prize.
These days a variety of multi-style boards designed for kids and youth are available. This kind of board manufacturing is still in its infancy, so expect to see innovation in this area as kids continue to move forward with paddle boarding fever.
Exciting video shot in France and Jersey during the summer. We need more of this for all interests kids to see!
Once a kid's got the bug, no encouragement is necessary. The beauty with paddle boarding is that young boarders get the same core workout as adults without knowing it's a workout—if only homework could be like that! It's a fabulous, fun way for all kids to keep fit, while improving balance and strength. Organized youth performance paddling events, demos, lessons and various kinds of SUP kid classes can be found wherever there are large bodies of water. 
For first-timers, be sure to take your kids to flat water. Demos and rentals with instruction are ideal for getting started, or if you're already seasoned, teach them yourself. Remember how easy it was for you to get going? Get ready to pass the thrill of discovery along, building confidence and having fun. And—bonus—the whole family can stand up paddle board. So get started! Make it a family day and show them how easy it is.
Oooh...that's fun!

---
---
Dear parents, 
you can lead kids to water
BUT they WILL sup. 
Invite your child to write about their awesome SUP experience using the form at the bottom of the page.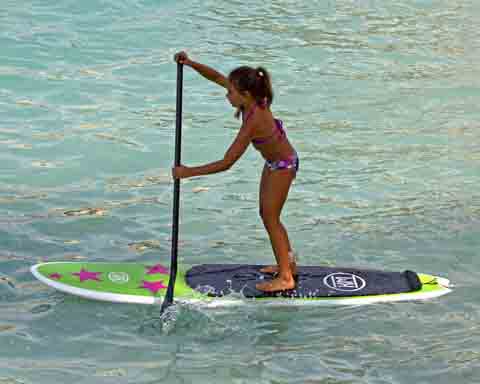 Make it easy. Consider a board that is light enough for your child to carry.
Kids surf with world champs
by worldpro surfers
The right equipment for a great SUP experience
Make sure the board is light enough for your child to carry. When it comes to fast-growing kids, manufacturers are addressing the issue with paddles that adjust for length. And "breakdown" paddles (into 2 or 3 pieces) are available to make carrying and storage easy. 
It is possible for a family to have one board for everyone to share. An inflatable SUP is ideal for this as these boards are more durable and stand up to rougher handling. Then, all you have to consider is the paddle or paddles to suit everyone's height. The bonus is easy storage.
---
PFD – for Kids
Don't think twice: equip your child with a personal flotation device, or life jacket. Take the time to look for one that is comfortable and that allows for paddling without chafing the arms—a sure-fire turn-off when getting started. And don't forget the hat and sunscreen.
---




Boards for SUP kids
---


Kids board reviews
Lucky Bums inflatable paddle board
Features:
8 (rated for 175lb) and 11 ft boards (for 250lbs)
30 inches wide
good for all skill levels
3 piece adjustable paddle
kayak seat
drop stitch construction
---
The following video shows off the super stable "Badfish" SUP. This presentation really says a lot about the ease of stand up padde boarding.
---



Review for Stand on Liquid kids board good for kids up to 130lbs

This board has sensible kid proof features including a retractable fin.




ATX "Rocket" stand up paddle board for kids up to 130lb. Its design allows for faster paddling compared to most kids boards.




404 9ft. 6 Mini Monster Kids Race SUP




Paddles for kids

Kids adjustable "Quickblade Microfly" SUP paddle review
---
---

Kids SUP video



9 year old Nathan and Michelle share fun waves




Search for flat water and surf lessons and camps for kids on the web. There are too many to list here! These camps provide instruction in skills, safety, how to read the ocean or river (currents and weather changes), maintenance and dent repair, and more. Ask what is included before you enrol; safety should be a top priority.

CANADA

Sun 'N SUP kids summer camps

778-514-5594

Sun "N SUP
176 Robinson Avenue
Naramata B.C.
V0H 1N0  Canada
ages 9 – 13
fundamental understanding of equipment, setup and handling
proper paddling technique
Sun 'N SUP
sunnsup@gmail.com
enquiry for 2015 program
---
UNITED STATES

SUP and Surf camp for Kids with special needs

Tony Stearns owner at Radfish Malibu, California U.S. and SUP and Surf camp in Malibu will offer a kids camp the first Sunday of each month starting in June and will run through October. This is a great chance to be of service and help some great kids do something they might never do otherwise. Tony is asking for help. Any volunteers are welcome.. You will have a blast and make a lot of people happy.

Facebook: Radfish and Charlie, living the dream
---



StandUpPaddle Colorado


970-453-7873

SUPing on the Colorado River. This group has tours for the whole family.




SurFit

SurFit Kids

SURFIT USA
941-952-8245
info@surfitusa.com

Sarasota, Flordia U.S.
6 - 16 years of age
week long day camps
classes by certified lifeguards
---
Surfari kids camp

sup@supsurfari.com

Surfari Stand Up Paddle and Surf
26 Central Street
Manchester by-the-Sea MA 01944 U.S.
ages 9 - 15
3 days camp
learn to paddle board and water safety
---
Adirondack Camp for kids – stand up paddling and other sports

Lake George in upstate New York U.S.
518-547-8261
---
Cape Ann S.U.P. – YMCA kids camp

contact@capeannsup.com

Cape Ann SUP – Essex
35 Dodge Street
Essex, MA 01929  U.S.

Cape Ann SUP – Gloucester
55 Commercial Street
Gloucester, MA 01930 U.S.
for ages 12 - 16
board and paddle care instruction
paddle tours
a minimum of 1 lifeguard certified instructor group
---



SUP yoga for kids
follow the link to find yoga for kids camps

YogaKids.com the highest quality kids yoga supplies and many other treasures
---
FINS
Surfco Super-flex SUP fin for kids and more.
SUP TODDLERS VIDEO
Toddler SUPing - very cute
4 yr old oddler SUPing  - parent holds a teather for safety.
Youth paddle surfing and flat water paddling.
Parent and child paddle surfing boarding.
Youth paddling in Flordia.
DESCRIPTION: SUP kids / youth boards
LINK: http://www.paddlesurfwarehouse.com/Kids-Stand-Up-Paddle-Boards-for-SUP-s/1880.htm
LINK: http://www.standonliquid.com/SUPer-Kids-75-Prodview.html
LINK: http://www.paddling.net/standup/kids-standup-boards.html
LINK: http://www.naturesshapes.com/s5.php
LINK: http://directboats.com/kidssupboards.html
---
Hey kids,
Did you have an awesome SUP camp experience or amazing day of surf? Where? How did it come about? What was the best part? What next? Hit us with your story using the form below. If we like it, it will be posted here.
Give us the good stuff. Speak your truth and be appropriate. All stories are monitored before posting.  
---
back to SUP fitness
---