Duk Gear waterproof phone case
At the request of Duk Gear, we have tested and reviewed the Duk Gear waterproof phone case.

First Impressions
NOTE: For testing/review purposes an iPhone 12 was used throughout this review for the Duk Gear waterproof phone case.

Out of the box
Bright colours - easy to spot if the case fall into the water.

Sturdy locking carabiner.

Heavy duty wide neck strap (almost 5/8 inch, same as 15 ml.

Locking levers click into locking position easily.

Padded frame and backing with large front clear plastic exposing phone screen and back smaller clear plastic exposing phone cameras.

Strong plastic composite locking device.

Over all the large size case outside measure at widest points are 8 1/4 in long and 4 1/2 inch wide. The larger 6 1/2 inch case measures 9 inch long and 4 1/2 inch wide.
Inserting phone
The large size case (for up to a 6 inch phone) fits the iPhone 12 perfectly. There is larger 6.5 inch case has identical features. Simply rotate the levers at top to open position and slip the phone into the case then rotate to lock position.
SPECIAL NOTE: It was noticed right-a-way there is an extended round cut in the plastic at both sides of the opening  - a thoughtful touch in preventing wear at the side seams (an area that tends to split eventually with soft plastic phone cases). see photo below. 
Once the phone is in the Duk Gear waterproof phone case there is no shifting. Fast and easy to insert and lock.
Duk Gear
Shock absorbing
There is plenty of padding. It appears to have reasonable measure of shock absorbing capabilities. NOTE: We did not actually drop the case onto a hard surface with a phone in it. Although with all the padding it could support a typical drop. 
Waterproofing and floating ability
Absolutely 100% waterproof. Once the case with phone drops into the water it quickly rebounds to float on top. The bright colour is easily seen. In this case lime green.
Touch sensitively
With the iPhone 12 in the case the touch screen works perfectly even at the outer edges of the screen. Duk Gear states that for iPhones there is a potential for a touch sensitivity issue. We used this case several times with the iPhone 12. There are no touch issues to report while the case is dry. All iPhone features can be accessed easily. "Assistive Touch" was not needed for the iPhone 12 while the case is dry.
Ability to make and receive calls
Gold star here. There are no delays using the touch pad and voice recognition is clear. Out going and incoming calls are straightforward. 
Neck strap
This strapping is very sturdy with a softer feel to the inside of the strap and generous in width. 

Including the carabiner it hangs 20 1/2 inches from the top of the case. 
We tried using the strap around the neck and crossed over the shoulder:
Around the neck
On bare skin it comfortable for some time, although eventually feels scratchy at the neck. To be fair, we haven't experienced a strap to date with any brand that is completely comfortable against bare skin - typical of made of man made fibres.
Crossed over the shoulder and chest
For most the strap would have to be longer. For a small - medium person there is enough length in the strap to cross over from the neck to under arm if you prefer that option.
Photos underwater

NOTE: Keep in mind only an iPhone 12 was used to try underwater shots. We can't say how another brand of phone would respond under water.
We could not take a photo underwater no matter what was tried. NOTE: photo taking out of the water works perfectly. But, as soon as the iPhone 12 was submerged, clearly, water between the plastic and finger is stopping the touch feature from taking a photo. The touch sensitivity is compromised. We tried over and over to no avail. In fact attempting to use any screen features on the iPhone 12 while under water will not work. Tried again with "Assistive Touch" - still does not work.
Important to NOTE: The moment the case comes out of the water, taking photos works perfectly with very good results. And all touch feature resume instantly. 
Multi-use
As Duk Gear advertises, it is clear this case can be used to keep anything dry - anything that can fit through the 3 5/8 inch opening and can fit within its inside perameters.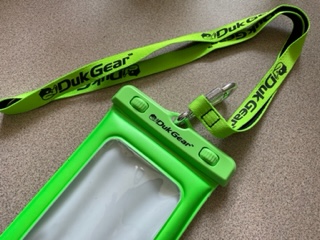 Duk Gear
Summary
This is a fine plastic floating phone case. And, reasonable priced. The floating capability and 100% water proofing are the most significant features. The easy-to-use, no fuss sturdy locking system works well. The neck strap is generous, well made and sturdy. A locking carabiner along with the special cut of the plastic at the sides of the entry point are a thoughtful touch. Nice bright colours - lime and blue in this case.
If you don't have a need to take photos underwater with an iPhone 12 you'll be pleased with what this can has to offer.  All other features work as presented by Duk Gear. The padding will offer fall shock to some degree. However, please NOTE: the fall shock was not measured in this review. 
This 100% water proof case with ability to float is paramount in terms of protection. And the extra measure taken to prevent ripped side seams is a noteable smart feature.
Duk Gear is a company that produces a variety of outdoor gear and accessories, including waterproof phone cases. Their waterproof phone cases are designed to protect your phone from water, sand, dust, and other potential hazards that you may encounter while enjoying outdoor activities like swimming, kayaking, hiking, and more.
Duk Gear waterproof phone cases are made from high-quality materials that are durable and reliable. They are designed to fit a wide range of phone models, and feature a clear plastic front that allows you to use your phone's touch screen and take photos without having to remove the case.
The cases are also designed to provide full access to your phone's buttons and ports, so you can still use your phone's features while it is protected inside the case. They come with an adjustable lanyard that allows you to keep your phone close at hand, and are available in a range of colors to suit your personal style.
Overall, Duk Gear waterproof phone cases are a great option for anyone who wants to protect their phone while enjoying outdoor activities. They are affordable, durable, and designed to fit a variety of phone models.