UV Protection 
Topless Boardbag
SORRY
THIS PRODUCT IS NO LONGER FOR SALE
–keeps your board up to 30º cooler versus an uncovered board
You can order this boardbag below: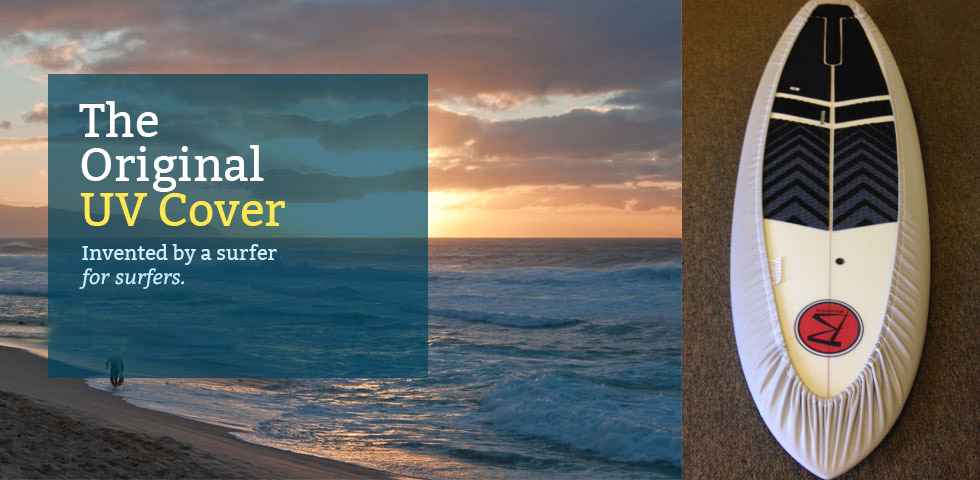 Have you been searching for a cooling, collapsible  "on the go" boardbag?...
...One that can keep your board up to 30º cooler versus an uncovered board, is lightweight, collapses into the size of a small deck bag, and slips on to a board in seconds.
The UV Topless Boardbag certainly has its place. Its compact size lets you pack and go. It's ability to keep a board cooler is it's most valuable attribute.
This is the ORIGINAL Topless Boardbag made in the U.S.A. There is a copycat out there that is made in China that cannot claim the same attributes or the same quality.
Where does the Topless Boardbag really shine?
Keeps your board up to 30º cooler than an uncovered board
Slips on in seconds – simple design
Heavy duty, stretch fabric that is reinforced in all the right places
Heavy duty elastic bungee cording that firmly keeps the cover on the board
Longevity – the integrity of this cover stands up exceptionaly well to everyday use
We at StandUpPaddleBoardingGuide have put our seal of approval on this product.
If you would like to purchase a Topless Boardbag, place your order in the following form. Your order will be invoiced and shipped to you directly by Geno at "Topless Boardbag". Prices listed are in U.S. dollars. 
You can inquire about flat rate shipping via this submission form.
| | |
| --- | --- |
| 12.6' race board bag shown above. $99.95 | 14' race board bag shown above. Fits 24 - 28" wide. $109.95 |
| | |
| --- | --- |
| 9'6" - 11'' sup shape shown above. Fits up to 33" wide. $99.95 | 11' - 12'6'' sup shape shown above. Fits 28 - 33" wide. $99.95 |