SUP tricks and SUP freestyle
– what's your move? And who started it anyway?
SUP tricks and SUP freestyle are loose terms used to describe unusual or impressive moves on a stand up paddle board. It's all about impressing your audience and making it look easy. I had the pleasure of watching an experienced boarder in Kiehi Maui SUPing freestyle on a gentle surf most of the evenings we were there. We would rush to the beach at the same time each day just to watch. He did it well and it looked beautiful and effortless...like dancing on water.
Who is responsible for proving you can walk on
a stand up paddle board while it is moving?
Laird Hamilton and Dave Kalama started to develop the idea of stand up paddle boarding in the late '90s and surf board shaper Jimmy Lewis is known for creating one of the first modern prototypes. They didn't do it alone. They all had plenty of help along the way—manufacturers and the like. Today Laird Hamilton is still "the voice" when it comes to SUPing.
Stand up paddle boarding didn't become mainstream until about 2005 although Laird Hamilton has been see doing SUP tricks long before that—he's the man!
Now you can see people on SUPs trying new tricks in just about any conditions from flat water to waves. Each moving action has a distinct name and a specific move or combination of moves. 
Enjoy the following videos. There is plenty to see here. Some instructional and some mainly entertaining. Should you try these maneuvers be sure to try them in a safe environment away from others. Enjoy.
---
See this RARE FOOTAGE from 1939 of Duke Kahanamoku surfing with a paddle at Waikiki Beach.
by Starrfilms.com

SUP tricks video
This video is called "Following John"
This fellow is talented and very brave...a dramatic way to get on your board!
Tom Carroll of Australia showing off on the ocean surf and rightly so.
Throughout this video you will see Tom Carroll from Australia moving about on his stand up long board while paddling in the Quiksilver Pro Semi Finals in 2011. One of the interesting things about this presentation is the way the comentator talks about SUPing as if it is very new.
Making it look easy – SUP freestyle
Here you can view SUP tricks on flat water.
What's your move? Trick name – "the In-n-out" by Jay Wild
The "In-n-out" move is to jump over your paddle back and forth.
Tricks by a group of paddlers in Tihany, Hungary
More freestyle SUPing – looking good. These three souls are having a lot of fun.
Freestyle SUP @ Balaton 2013 from Andreas Novotny on Vimeo.
Simple moving around and balancing on your SUP board
by paddlingTV
View these easy to follow tips for moving around on your board and keeping your balance.
Trick name – "the Ally oop 180"
This move is shown in a swimming pool.
Trick name – "The River 360"
Basically a 360 in whitewater
Coming to you from "The Two StandUp Guys" in San Diego, California...
Various tricks on waves. I have heard that these two guys offer SUP lessons with great enthusiasm...if you are ever in San Diego... 
Trick name – "Ghost paddle transfer"
This is too much to explain. You'll have to watch it for yourself.
From DownUnder – see this just for laughs
This 4 second video makes me laugh everytime I watch it.
---
back to disciplines – So many ways to walk your paddle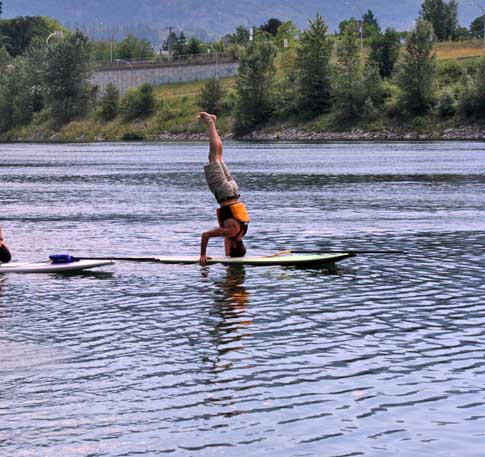 First time paddler has success at up side down stand up.