SUP lock systems that work on or off your vehicle
Dockslocks locking system
Board SUP lock systems give piece of mind.
Is this a familiar scenario? ... you strap down your board to your vehicle rack then walk back to your friends at the beach ... now you can't stop wondering if your board will still be there when you get back. OR how about driving home, you make a quick stop for milk and as you walk away from your vehicle you can't help but to look back at your board only to wonder if it will still be there when you return.
The lock systems listed below will get you thinking about what will work best for specific situations. To date we have found two stand-alone locking device that allows you to lock up easily to a fixed object.
Another good option is a steel core security strap also called tie-downs that can be wrapped around your board and then to a vehicle rack using a key to lock. These straps can also be used to attach to other fixed objects anywhere depending on how long the strap is.
TIP: when securing your board to your vehicle give your strap a twist as opposed to laying flat to prevent wind noise.
NOTE: pay attention to the length of the straps before ordering. Some straps are made specifically for surf boards and may prove to be too short for some SUPs and long boards.
BLUEFIN 
https://bluefinsupboards.com/

See full review of the affordable Bluefin Sprint here: https://www.standuppaddleboardingguide.com/sup-gear-reviews-paddle-boards.html


The Kaimano Locking System is my/our favorite because of its brut strength components and one time installation option. You can puchase the Kaimano Locking System using the form below.
Kaimano—designed for a standard longboard fin box. It has a regular lock and key style that fits into a metal securement. You can purchase the locking securement with or without the lock and cable. Realeased February of 2017. See a full review here: https://www.standuppaddleboardingguide.com/SUP-gear-reviews-locking-systems.html 
See video below.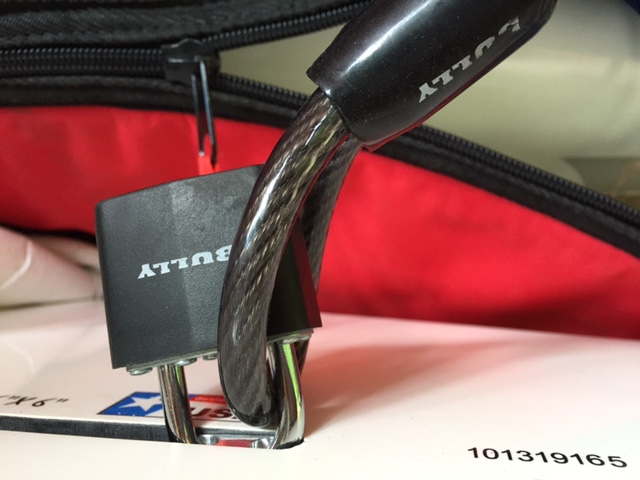 Kaimano SUP lock system installation instructions in the following video


You can place an order below for the Kaimano Locking System:
Your order will be invoiced and shipped to you directly by "Kaimano Locking Systems". Prices listed are in U.S. dollars.

---

DocksLocks SUP lock systems for your board
This jaw-lock style SUP lock system is easy and quick to use. It is easily attached to your leash plug or fin box. 
DocksLock — I USE DocksLocks and Kaimano depending on the size of the fin box on the board I'm using. DocksLock  is a fast, easy, no nonsense lock. I have an extra DocksLocks jaw-lock to use with two boards. It gives you the confidence to be able to walk away from your board. 
Its a jaw lock style used with a coiled steel core, plastic covered cable. Multiple jaw locks can be added for multiple boards. I find this lock very handy for when we go camping or when I'm at the beach and need to get my board out of the sun and under a tree some distance from me. It is about the same amount of security as a bike lock. This device is described below along with a video.
---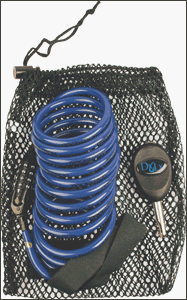 To find out more on the DocksLocks use the following link:
DocksLocks Security System
DocksLocks Surfboard and SUP Lock from Sean Carmichael on Vimeo.
---
---
Thule locking paddle board tiedown straps
Steel reinforced nylon straps. Key locking system.
Thule locking straps
Thule locking straps
KanuLock reinforced lockable tiedown straps
KanuLock straps lock using a key. They work the same as standard tie-downs with the added benefit of reinforced stainless steel cables.
KanuLock locking straps
KanuLock locking straps
Sea to Summit SPT lockable tie down
Steel reinforced stainless steel tie down straps. Uses a key to lock. Sea to Summit offers varying strap lengths.
Sea to Summit gear
Sea to Summit gear
back to SUP accessories and gear
Home – where it all started