SUP gear reviews -


paddle boards



At the request of Bluefin Sup, we have tested and reviewed the Bluefin SPRINT - Sup gear reviews - paddle boards
2021 Bluefin Sprint
Its affordable! and loaded with features
Its affordable, loaded with features, its very stable, tracks and glides well and everything you need to get on the water is in the box, and that my friends is the magic formula that attracts the average consumer of inflatable boards. This one shines.
The sprint proves to be above average in multiple ways. Once you discover what Bluefin has to offer, it becomes clear why they've earned a significant presence in the SUP world and why their board packages attract a wide range of consumers. The combination of 5 year warranty, 60 day return policy and global shipping is not only impressive but unheard of. And Bluefin offers board packages accessible to all. Bluefin board packages are affordable, (I'll probably use the word "affordable" over and over), thoughtfully designed and use materials that will last years and years with proper care.
Sup gear reviews - paddle boards

Specifications:
Designed for touring, long distance, and expeditions
Length: 14' Bluefin Sprint
Width: 14' x 30"
Thickness: 6" deep
Weight: 36 lbs. or 16.3 kg
PSI: Inflates to a suggested 15 - 18 psi 
Cargo load: According to Bluefin will carry up to 400 lbs 
Paddle: 3-piece adjustable fibreglass shaft and polyurethane composite blade - blade length 8 1/4" at widest point x 18" in length. Adjusts from 69" (1.75 metres) - 89" (2.26 metres)
Fins: "Smart" fin system. 3 fin set-up (removable) Two 6" side fins and a 9" centre fin
Leash: ankle. A standard coiled style for touring
Pump: dual action - single chamber – pumps on the upward and downward stroke – nice!
Materials: Bluefin states: they use 1000 Denier Exo Surface Laminate PVC & Pro Weave Drop Stitch exclusively. Because of these specifications the materials are tough enough to support 28 PSI according to the people at Bluefin.
First impressions
Everything you need to start paddling is in the box and more. Literally; board, pump, fins, paddle, ankle leash, waterproof phone dry bag and repair kit and extra lever for "Smart Fin" fin box. This board is thoughtfully designed. 

Once you see the Sprint fully inflated, it is clear that it can handle a heavy load. It is unmistakably setup for touring. At 18 psi you'll the board to be RIGID. This board is just as rigid as other higher priced inflatables. 
The Sprint has a large grip-pad with a kick pad near the tail to hold your stance during tight turns. It's shaped with a sharp angled nose, narrow tail, a flat hull, and flat deck. Outstanding in flat water and handles chop well. Easy straight tracking with 3-fin setup. If you choose to use the single centre fin only, you'll notice a distinct pick-up in speed. A plus to offer removable fins; that means options for the way you want to paddle.
You may read in some consumer reviews, this board is a little heavier than some other comparable boards although not by much. The Sprint weighs 36 lbs. same as 16.3 kg. 
Easy to inflate:
The single barrel. double action pump is a pleasure to operate; efficient and easy to use. It pumps on the upward and downward stroke. And takes about 20 minutes or less to inflate. Anyone can do it. A superb pump.
The ride:
What we noticed first: From a stand still there is some resistance to propel forward, after a few paddle strokes, momentum kicks in with a distinct pick up in speed and glide. This board is so very stable and comfortable to stand on with a completely flat deck – a flat deck may mean less foot fatigue.  It tracks very well in both the 3-fin set-up and single centre fin alone. If you want more speed, the Sprint really shines —simply remove the two side fins to use the single fin only; it will put a smile on your face. This board is outstanding in flat water and holds its own in choppy waters. 

The handles, cargo space, d-rings
The handles:
Well equipped with strategically placed handles and D-rings. The board deck has three centre handles and 2 more at the deck nose and deck tail. There are plenty of options for ways to carry, lift and mount this board. The centre handle offers integrated neoprene paddle stay. 
Sup gear reviews - paddle boards

Cargo space, D-rings, bungee cords:
There is an abundance of space to pack gear forward of centre handle (foot print is approximately 3 sq ft or .28 sq metres) and rear of centre handle (foot print is approximately 1 sq ft or .09 sq metres). 
There are 20 D-rings and plenty of bungee elastic to hold cargo. You'll also see D-rings in place to attach the kayak kit that Bluefin is known for. (sold separately for this board)
Smart add-on: in close proximity to the nose D-ring sits a receiver to mount an action camera. 
Fins, bag, paddle:
Smart Fins:

The Sprint comes with a 3 fin set-up. Each fin is removable and uses a proprietary "Smart Fin" system to secure in place. Simply lift the lever, guide the fin into the fin box and push down. Then press lever down until it clicks - It's fast and easy. The fins are made of a rigged composite.

Removable fins means options. Choose between 1 centre fin OR 3 fin setup - Two 6" outside fins and one 9" centre fin. This is not a universal fin box. It is proprietary to fit these specific fins.
Carry / Storage bag:
Its skookum! Adjustable straps, side pocket, top handle, outside large zippered area for all accessories. Water resistant inside, topped with bonded fabric on the outside. 3-sided zipper to allow wide opening to insert deflated board. 4 adjustable side straps and wide padded adjustable carry straps.
The paddle:
In the box is a 3-piece paddle with a fibreglass shaft with polyurethane composite blade. Once the 3 pieces are clicked in and aligned, you'll forget its a 3-piece. Sturdy secure connections. And the levers can be tightened to be sure alignment stays put.
It's easy to keep the blade quiet on entry. And as Bluefin advertises, no flutter through the pull. Lighter than aluminum paddle – heavier than carbon paddle.
Just have to say...
Added comments:
The "Smart" fins are removable rather than fixed. Suggestion (but not a deal breaker): We'd like to see Bluefin offer the option to switch out the centre curved fin for a racing or touring fin. It would allow for much more flexibility that this board could certainly handle.
The Sprint is marketed as a board for intermediate to experienced paddlers. Because this board is so stable, we would not hesitate to invite a beginner to try it out.
Final notes:
There are so many attributes to point out about the company and the board. Bluefin boards carry a 5 year warranty, sixty day returns, and free global shipping – significant by any standards. The packages are affordable by comparison to what other known inflatable board makers offer. It is clear why Bluefin boards appeal to the masses. Affordable, sturdy, with everything you need to begin paddling included the box. This board offers it all!
You won't be disappointed! 
There are several reasons why people might buy the Bluefin SUP brand:
Quality and Durability: Bluefin SUPs are known for their high-quality construction and durable materials. They are built to withstand the rigors of regular use and can handle a variety of water conditions.
Versatility: Bluefin SUPs are designed for a wide range of activities, from flatwater paddling to surfing and even yoga. They come in a variety of sizes and shapes to accommodate different types of paddling and skill levels.
Ease of Use: Bluefin SUPs are easy to inflate and set up, and they come with all the necessary accessories, such as paddles, pumps, and carrying bags. This makes it easy for beginners to get started with paddleboarding.
Affordability: While Bluefin SUPs are not the cheapest on the market, they offer good value for money. They are priced competitively compared to other high-quality brands, making them a great choice for those looking for a durable and versatile board without breaking the bank.
Overall, Bluefin SUP is a popular brand for those looking for a quality, versatile, and affordable stand-up paddleboard. With their focus on quality construction and customer satisfaction, it's easy to see why they have become a popular choice among paddleboarders.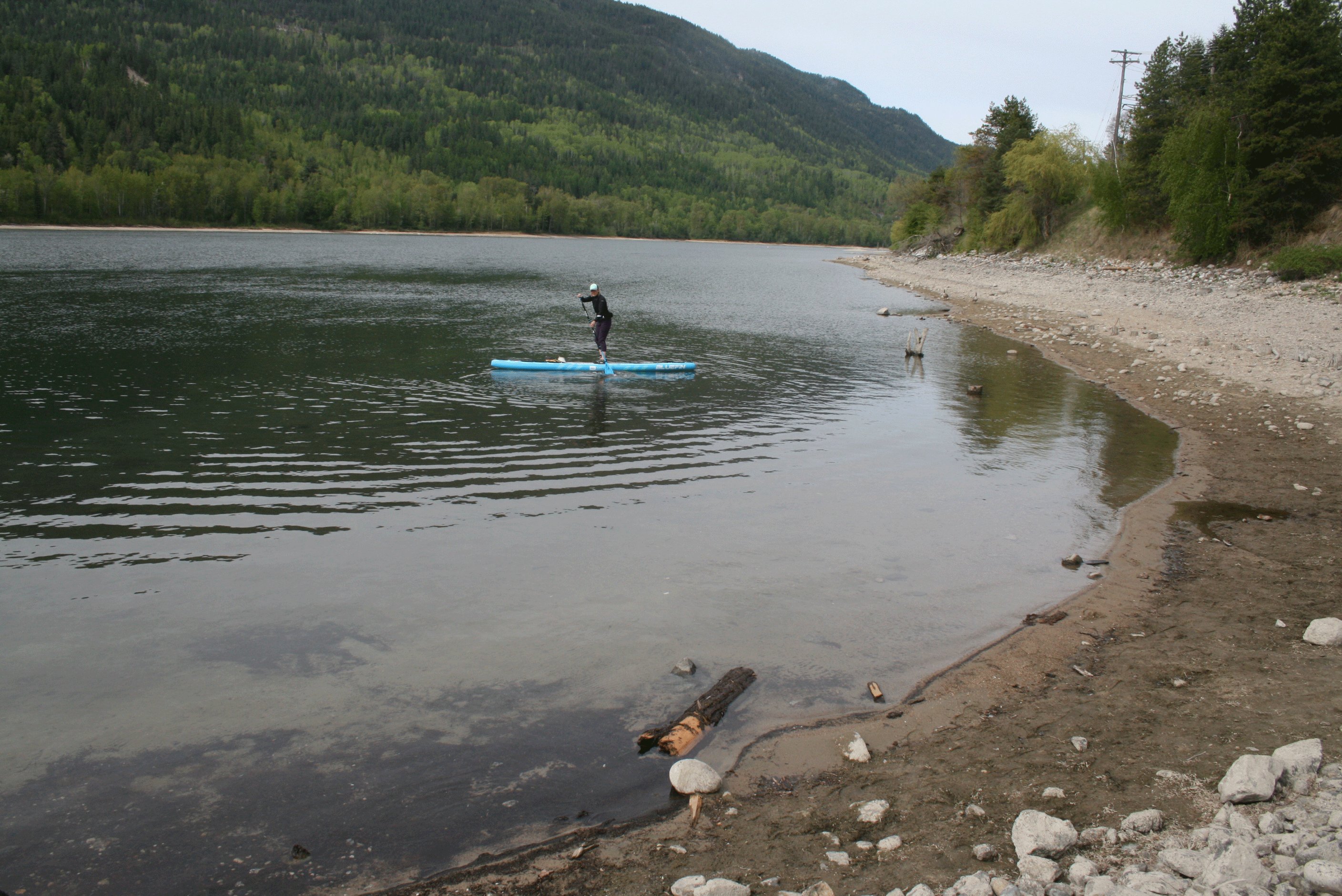 ---
2015
14" Surftech Bark Downwinder Pro Elite
March 2017
Board DESCRIPTION / SPECIFICATIONS
14' x 27.87" x 6.8" 
inset carry handle with the ability to wrap your finger tips within the opening and actually hang on
volume - 274.6 liters
cell foam core (water resistant)
core is pressure molded using hight-quality carbon and fiberglass with a PVC reinforced standing area.
this is a great all round board
I purchased a 2015 board in the year 2016. That is why it is late in posting. My favourite board to date, handsdown!

This is a cheat review, meaning, I've come across a great review for this board, that I will share with you here. I couldn't have said it better myself.
https://www.standupzone.com/forum/index.php?topic=27745.0 
2014 SUP gear reviews

paddle boards
May 30/14
Board DESCRIPTION / SPECIFICATIONS
12.6 x 29 x 69 inch touring fin
4 point tiedowns
LiftSUP handlesingle touring fin
volume - 277 liters
epoxy, EPS sandwich molded designed for flat or choppy water, touring, racing or casual ride novice to advanced
Boardworks uses Thermal Epoxy Compression – dual-density core (EPS is bonded to a high density *divynicell outer shell), fibreglass and epoxy resins technology (T.E.C.).
*

(divynicell a rigid PVC foam)

Note: the Raven is 5/8 inch thicker than the Raven 2 with 290 litters of volume
SIZE and ABILITY
(rated by Boardworks)
Novice: up to 160lbs
Intermediate: up to 175lbs
Advanced: up to 200lbs
QUALITY
A sandwich molded stand up paddle board. Boardworks claims to use the finest epoxy resins and a super light core to produce a very good strength to weight ratio.
 
WHAT I KNOW FOR SURE
The Raven 2 has been one of Boardworks most popular models. We can see why. This board feels very light for it's size, super buoyant and super stable for it's 29" width. 
We weighed in the Raven 2 at 33 1/2 lb or 15.2 kg.
With each stroke you can feel the consistent glide and speed it is designed for.
Feel a smooth, long glide on flat water.
The nose cuts through small chop nicely.
Quick turns!
This board is not recommended for a first-time paddler although, for the athletic beginner it won't take long to get used to this stable, buoyant board. The patented "LiftSUP" handle makes carrying simple and easy. 
Easily attach locking systems to the handle when it is in its raised position.
The bamboo veneer and Northwest Native American inspired graphics gives a thoughtful aesthetics.
The Raven 2 is a streamline version of it's sister board, the Raven
---
---
---
---
Back to main page of SUP gear reviews
SUP gear reviews – board racks
SUP gear reviews – carry aides
SUP gear reviews – locking systems and straps
SUP gear reviews – miscellaneous