SUP gear reviews

carry aides
Dockslocks locking system
May 2, 2014
DESCRIPTION
Surfstow SUP GRIP. This is an external handle that holds with two large suction cups.
QUALITY
The handle itself appears to be a sturdy plastic. The suction is created by pressing two levers downwards. In this position the lever action has pulled the suction cups flat by way of a spring inside the handle casing. Time will tell how long this item will last. Come back in September 2014 to read how it held up over time. For what it does and its low price this little device is real gem!
SPECIFICATIONS
Powerful dual locking suction cups
The entire handle measures 11 3/4" or 30 cm across the length
Diameter of each suction cup is 3 3/4" or 9.5 cm
The length of the handle grip can easily accommodate a very large hand
Handle - plastic
Inner parts - stainless steel.
WHAT I KNOW FOR SURE
Easy to install and to remove
No tools necessary
Can be mounted in any direction
Easily transportable
Must be mounted on a clean, smooth, flat, nonporous surface
Using this handle on a windy day provides a much more secure hold.
This is our BIG RAVE item for this spring 2014. This simple device can provide relief instantly from the (sometimes) difficulties of packing a board on and off a vehicle. This handle can be placed on the fin side of the board for easy pick-up off the ground and onto a vehicle. Once you find the perfect position on your board the whole process is much less effort simply because you can place the handle precisely where you need it. This is little device is an absolute gem! 
ADDED NOTES:
If you are going to take this handle with you during your paddle be sure to keep it dry (use a dry bag or even a zip lock). I read a review from someone very disappointed with this product only because they used it wet!...The suction MUST BE A DRY CONTACT to hold securely.
Before applying the handle to the board be sure the surface of the board and the suction cups are clean and dry
When the handle is attached test the seal by giving it a couple of shakes – be sure the seal is secure. 
The Surfstow will make the lifting and carrying process much easier for those who:
need or want relief for distance carrying
feel they can't handle a board by themselves
would like the process to take less effort
may not be able to reach the built in handle (kids and adults)
have back pain when lifting 
SURFSTOW SUP Handle:

This handle is a mainstay in my deck bag. If poor conditions force me off the water, I can walk back carrying my board with ease. Its SUPER SUCK feature has never failed (apply on a dry surface).
Find out more at the following link:
Surfstow SUP grip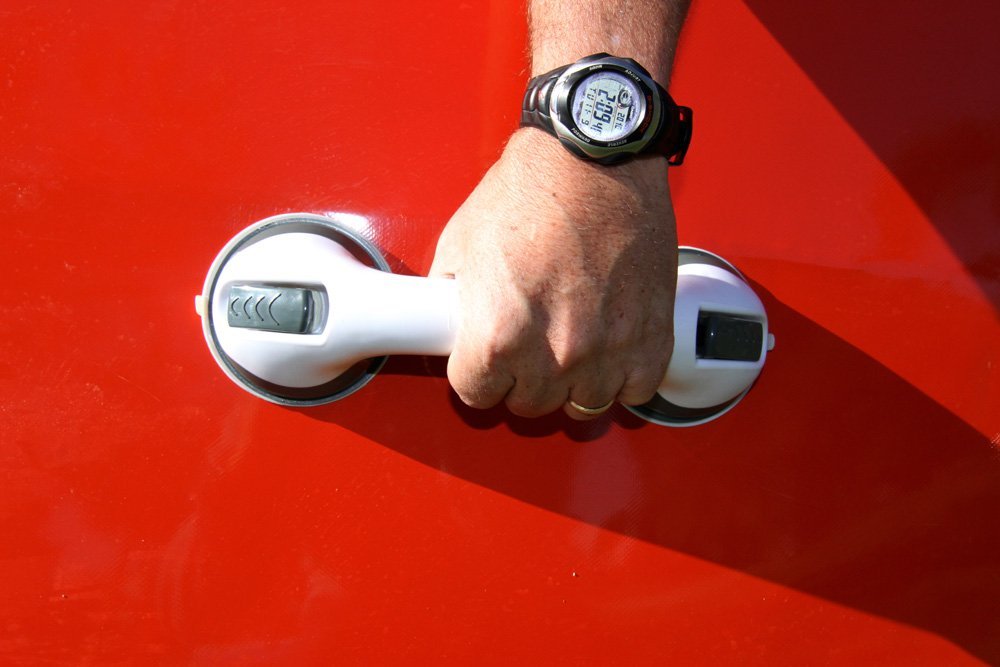 ---
---
Back to main page of SUP gear reviews
SUP gear reviews – paddle boards
SUP gear reviews – boards racks
SUP gear reviews – locking systems and straps
SUP gear reviews – miscellaneous
---