Dockslocks locking system
SUP gear reviews

deck bags
At the request of "DeckBagz™" — deckbagz.com, we reviewed the following: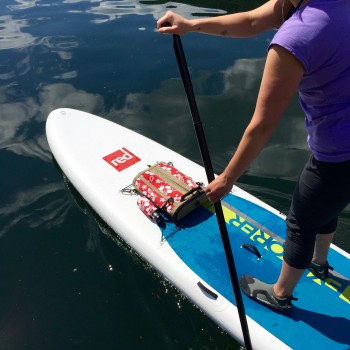 DESCRIPTION
Retro style deck bag with matching water bottle and dry bag
FIRST IMPRESSIONS
The bag and accessories arrived carefully packaged in a zippered clear plastic bag (see following photo)
Presentation — Noticable personal touch. (See following photo) The bag arrived carefully packaged with a friendly note and extras
2 heavy gauge nylon zippers, plenty of rings and loops to attach all your SUP gear
Sturdy overall
Really beautiful! and retro they are — one can sense the care taken in the design and production of this bag. I am compelled to say the bag and presentation is more impressive to actually see and hold one over viewing them on the website (www.deckbagz.com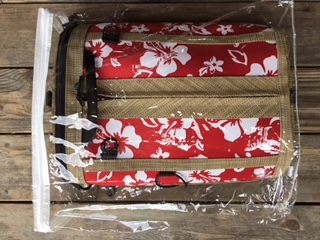 SPECIFICATIONS 
Deck Bag:
16" long x 12" wide x 5" tall
Bag top is laminated neoprene adds-up to 3ml in thickness
Mesh strips reinforce both ends and bottom of the bag. The mesh is a thick vinyl material
2 heavy duty nylon zippers for access two ways; at the top and the end
2 carry holders: hand strap at the end of the bag and a shoulder strap for hands free carrying that measures 35 1/2" (see the following photo) 
Water bottle holder:
6" tall - accommodates standard size plastic water bottle or any other water bottles of approximate same size
Study clip for hooking onto deck bag
Long twill handle reaches the full length of holder
Dry bag:
4 1/2" diameter at bottom

4 3/4" diameter at top

vinyl

sealed, glued seams

standard "roll down" style closure with sturdy clip

water resistant
QUALITY
Deck Bag:
Looks and feels substantial.
Aesthetically pleasing. Very good looking bag.
Heavy duty nylon zippers—one at the top and one on the end, 3 D-rings, 4 clips near each corner for attaching to board and 1 clip inside the bag for keys or anything small and important, 2 wide twill loops and adjustable cord to temporarily hold and keep a paddle on the board when not in use.
The longer cord attached to the side of the bag is meant to secure your paddle at the shaft when not in use. Extremely simple concept yet functional.
Bag top is made of laminated thick neoprene with strips of vinyl mesh strategically placed to reinforce—serves well in terms of function and design.
Thoughtfully designed both in terms of function and style/design
4 cords come with the bag to secure the bag to your board. These cords attach to your existing board d-rings or other deck pins. The cords have what DeckBagz call "loop extenders". These extenders are meant to act as stoppers to keep the bag tight and in position.(See following image - left). At the top of the "loop extender" is a button. When the button is pushed, the cord is released. In this case the "loop extenders" do not hold well. To solve the issue we made a knot at the end of the "loop extender" to keep it in place—an easy solution that worked. (See following image - right). 
Water bottle holder/cooler
Simply designed. The twill outside handle with clip runs along the length of the holder—uncomplicated and functional—a smart touch.
Fits standard water bottle size and any other water bottles close in size. (See the following photo)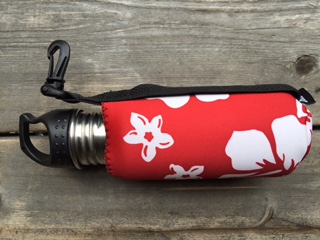 Drybag
The thick vinyl drybag keeps your things dry from splashes. Deckbagz states "this dry bag is not intended to be submerged". 
CURIOUS: We closed the bag as per instructions and kept the bag underwater for 15 minutes to see what would happen—yes a little bit of water seeped in. We appreciate the note that came with the package advising the consumer of its level of protection. (See the following photo) 
What I know for sure
This bag is beautiful, sturdy, and functional. For the consumer who wants to make a statement, this eye-catching bag  with matching accessories will certainly do that. It wasn't a busy morning on the water during testing although we did get asked by passersby where the bag came from. 
Perhaps one of the most appreciated attributes is the double zipper feature—opens the full length at the top and at one end. This makes for easy packing and super easy access if you need to stop to get something out of the bag while out on the water.
There are plenty of hooks and loops to accommodate the need to attach "SUP things" to the bag.
This bag stands out over all others we've seen in terms of style.

Not too small, not too big. I could fit a neoprene jacket, another light jacket, a small safety kit, and extra water bottle  with room to spare.
If we had our way
We suggest better  "loop extenders" — ones that grip securely and match the quality of the other components.  
---
2014 SUP gear reviews

deck bags
Adventure Pockets – SUP Pocket
August 3/14
At the request of "Adventure Pockets" we reviewed the following:
DESCRIPTION
Adventure Pockets – SUP Pocket deck bag

QUALITY
Very well made
Sturdy materials: heavy duty underside, 3/4 in. reinforcement trim and loops
Centred, sturdy, easy to open, nylon zipper
Unique soft woven cord mesh for the top side with the ability to easily expand
Four corner loops to attach suction cups and a fifth loop on the side to attach extras
4 in. inside cord loop with lightweight plastic hook for important small things. The cord can sit inside or outside of the bag 
SPECIFICATIONS 
Outside dimensions 15 1/4 in. x 12 in.
Inside dimensions 14 in. x 10 3/4 in.
Four - 2 1/2 in. suction cups
Expands to 4 1/2 in. in height at inside centre 


WHAT I KNOW FOR SURE
Once we took the SUP pocket out of its plastic zip-locked bag, the first thing noticed was how sturdy it is made; 3/4 in. edging, heavy underside, 1 1/2 in. wide nylon sturdy zipper reinforced with twilled cloth taping along each side of its length.  3/4" wide handle with a 4 3/4" wide opening. 
A secure "square knot" worked well to tie the cord to the suction cup. 
The zipper runs the full length of the centre of the bag. The centre positioning allow for QUICK and easy access to everything you place inside. 
We tested the SUP Pocket with 3 1/2 lbs of things placed inside it; a wind breaker jacket, a Surfstow SUP grip handle, and a few safety supplies. A water bottle was attached to the outside of the bag. 
This bag easily expands to 4 1/2 in. in height at the centre-middle, slightly tapering in height as things reach the edges. It is a surprise how much volume it holds since it looks so flat coming out of the package—Nice to have the option of flat or expanded as needed.
NOTE:
"Adventure Pockets" states on its packaging, "SUP pocket is intended for use on calm water." We agree with this statement because of the diameter of the suction cups (2 1/2" in diameter)). The bag itself is so sturdy that it can easily carry more weight.  
The package instruction also states "burp suction cups occasionally." This deck bag was tested on calm waters for a 7 1/2 mile / 12 km paddle over a 2 hour period. The board used was a Boardworks Raven2 (with a glassed finish). NOTE: there is a "Inflatable Kit" available as well. There was no slipping or shifting what so ever. We did not "burp" the suction cups during the ride, however when it was time to remove the bag, the suction cups separated from the board with little resistance. For this reason, one should be in the habit of checking the suction during a ride. Because the suction cups removed from the board with little resistance, we can't call these suction cups "super stick." 
SUMMARY
The SUP Pocket's 3 greatest assets are:
sturdy construction
soft expandable upper mesh
sturdy, smooth sliding zipper
super easy access to all things inside
great for a casual paddle to carry light-weight contents
The SUP Pocket can be purchase here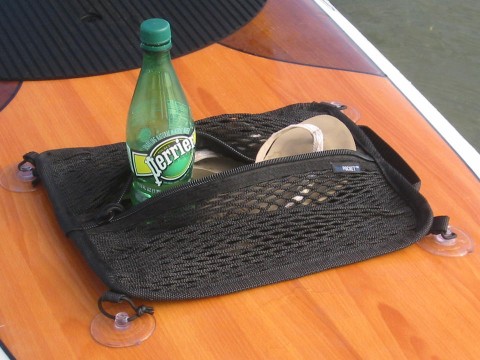 Mesh Deck Bag by Seattle Sports
May 17/14
DESCRIPTION
Mesh Deck Bag by Seattle Sports

QUALITY
Excellent. 
SPECIFICATIONS
heavy duty zipper
4 swivel clips
exterior webbing for multiple attachment options
durable mesh material
dries quickly
reflective strip
carry handle at end of bag
WHAT I KNOW FOR SURE
This bag holds a neoprene jacket, Surfstow SUP grip, a small foam pad and there was still room.
The sturdy heavy gauge zipper opens and closes without great effort...very smooth. 
It is easily accessed while on your board. 
All parts and materials are heavy duty/gauge. 
This sturdy bag will hold its own in most SUP scenarios. 
The exterior webbing and extra loops provide plenty of opportunity to strap other items to it. 
This is a very well made bag. Excellent quality.
BUY NOW – by Seattle Sports Mesh Deck Bag
Click on image below to see more information
---
Back to main page of SUP gear reviews
SUP gear reviews – paddle boards
SUP gear reviews – boards racks
SUP gear reviews – carry aides
SUP gear reviews – locking systems and straps
SUP gear reviews – miscellaneous
---