SUP Women – Let's trash the myths!
---
ANCHEER SUP Board, Stand Up Paddle Board 10', Inflatable Paddle Board (6'' Thick SUP board), iSUP Board Package with Adjustable Paddle, Leash Pump and Backpack
SUP women who've been riding the rails for a while know that stand up paddle boarding is fun, strength-building, empowering, and accessible at almost any fitness level. Flat-water paddling builds confidence and core strength; from there, SUP women can take the sport as far as they want to go. So what's stopping you?
Myth #1: SUP looks too difficult; I'll never be able to balance!
Stand up paddle boarding is much easier than it looks. Many SUP women are paddling minutes after standing up on the board. For a positive first experience seek out a demo or rental with instruction. This one important tip could make the different between getting hooked and getting frustrated. Professional instruction is the way to go, no matter how willing your friend is to "show you how it's done."
Myth #2: All that gear looks expensive!
Like any sport SUP can be expensive, but you don't have to start out paying thousands of dollars. Numerous boards can be found priced under $1000.00 U.S. Rent until you're ready, or consider a used board as a starting point. Something that is fun and healthy can never a bad investment.
Myth #3: If I'm going to learn a new sport, I want something that will be real workout.
Is SUP a workout? You bet! Follow this link to view a calorie burning chart and read an explanation of the core fitness benefits you can expect now that you're a SUP woman.
This sport is truly a fabulous activity for SUP women of all fitness levels and all ages, from the casual to the active enthusiast, and from the very young woman to the senior enthusiast.
The benefits are enormous:
ANCHEER SUP Board, Stand Up Paddle Board 10', Inflatable Paddle Board (6'' Thick SUP board), iSUP Board Package with Adjustable Paddle, Leash Pump and Backpack
---
"Can I Surf That" movie trailer to premier May 2015 at the Colorado Kayak's Supply Paddlefest – Brittany Parker, Heather Jackson, Claire Chappell and Nadia Almuti have spent the last two years on the road working on this film.
---
---
Board for women – Paiwen Review
This all-around stand up paddle board IS truly designed and built for women. Its planer hull and ability to switch from one to three fins make it a dual purpose flat water or wave board. Be sure to demo this one—It may even exceed your expectations. I've read a review by a fellow who tried SUP surfing on his girlfriend's Paiwen. He raved about how well it handled the waves. But that is just one of it's strong points. It handles beautifully on flatwater.
This epoxy board is quality crafted and beautiful to look at. The ease of handling this 10' board is a real pleasure. This is my travel board when we get-a-way with our truck and camper. It happens to fit nicely on the camper bed in its custom fit cover so I don't have to strap it down.
Once I get it to the water it becomes my "magic carpet." The sum of its qualities is certainly impressive.
 The Paiwen board ... made for women
This is board is unique board ... it offers quality, beauty, and reasonable pricing in one complete package. see full review
---
---

Websites for SUP women
Paddle Diva

"Paddle Diva" is most certainly geared to encourage women. They offer yoga, teacher training, stand up paddle board lessons, and host paddle board tours and paddle board retreats just for women! You'll also find a healthy blog here, And be sure to watch the video supporting an important cause, that is, to protect our oceans.
Amagansett, New York, U.S.
website: http://www.paddlediva.com/contact-us/
View the following video to see Paddle Diva's Rincon retreat: 
---
---
---
---
Organized events
Women are a force when it comes to discussing SUP topics for organized events. According to SUP connect and other resources there are just as many women as men that are paddle boarding in organized events. Hence women are actively involved in public discussions to make the stand up paddle boarding world a better place.
In the following article (link below) Julianne Brackett is disqualified for drafting – you have an opportunity at the end of the article to write your opinion.
http://www.supracer.com/thunderbird-run-sup-race-winner-disqualified-for-drafting/
---
SURFSTOW SUP Handle:

This handle is a mainstay in my deck bag. If poor conditions force me off the water, I can walk back carrying my board with ease. Its SUPER SUCK feature has never failed (apply on a dry surface).
Find out more at the following link:
Surfstow SUP grip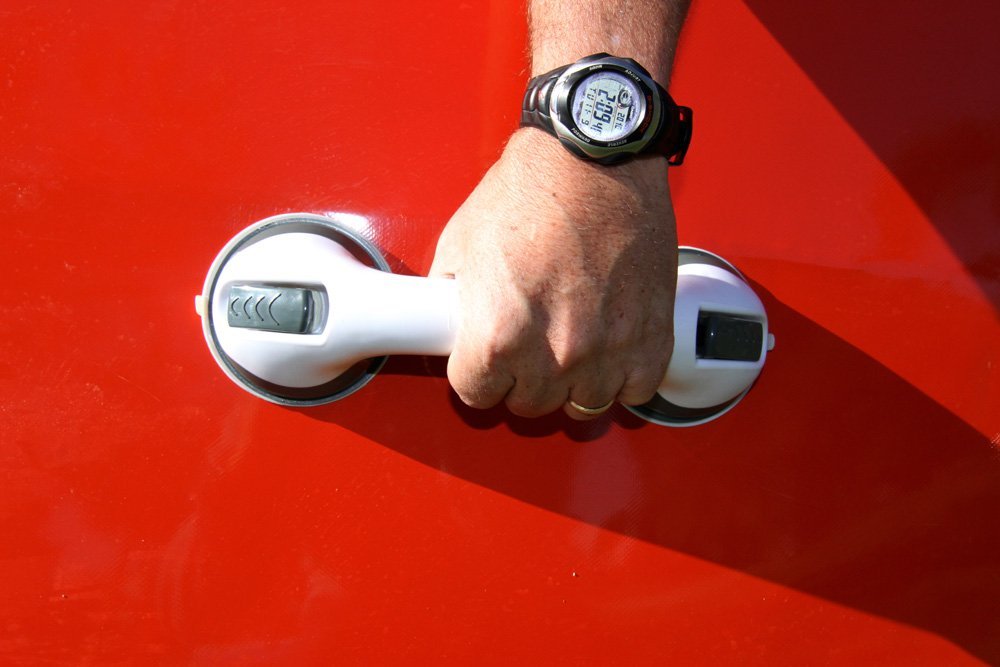 ---
Candice Appleby, Gillian Gibree, Rebecca Jakeway speak on stand up paddle boarding for women.
---
Two seniors enjoying a tandum paddling cruise on an inflatable SUP. 
Paddleboard Specialists – boards for SUP women
"Paddle board speclists" show a full page of boards suitable for women.
LINK: specialists.com/Womens-SUP-Paddleboards
Paddle Board Reviews
Reviews for women's SUPs
---
---
back to SUP fitness
Home – where it all began
---