SUP Women – Let's trash the myths!
---
ANCHEER SUP Board, Stand Up Paddle Board 10', Inflatable Paddle Board (6'' Thick SUP board), iSUP Board Package with Adjustable Paddle, Leash Pump and Backpack
Myths
There are several myths surrounding Sup women in the stand-up paddling (SUP) world that are not supported by the facts. Here are a few examples:
Women are not as strong or skilled as men in SUP:


This is simply not true. While men may have a slight physical advantage due to differences in body composition, women are just as capable of developing the strength, skill, and technique needed to excel in SUP.

Women are not interested in SUP:


Another myth that is easily debunked by the growing number of women participating in SUP. As the sport becomes more accessible and inclusive, more and more women are discovering the joy and benefits of paddling.

Women are not competitive in SUP:


This is another falsehood that ignores the many talented and competitive women who are making a name for themselves in professional SUP competitions. While there may be fewer opportunities for women in some events, this is not due to a lack of talent or competitiveness.

Women are only interested in leisurely paddling:


While many women do enjoy SUP for its leisure and relaxation benefits, there are also plenty of women who are pushing the boundaries of the sport with their athleticism, skill, and courage.
Overall, these myths about Sup women in the SUP world are unfounded and do a disservice to the many talented and passionate female paddlers out there. It's important to recognize and celebrate the diversity and inclusivity of the sport, and to support and empower women in SUP and other water sports.
Sup women and racing
There are many talented women in the SUP racing world, and here are some of the top names:
Candice Appleby

:
A pioneer in the sport of SUP, Candice is a multiple-time champion and one of the most decorated female paddlers of all time.

Sonni Honscheid:


A German athlete who has dominated the international SUP scene in recent years, winning numerous world championships and major competitions.

Fiona Wylde:


A rising star in the sport, Fiona has been competing at the elite level since she was a teenager and has won multiple major events.

Annabel Anderson:


A New Zealand athlete who was one of the early leaders in women's SUP racing, Annabel has won multiple world championships and is a respected figure in the sport.

Terrene Black:


An Australian paddler who has won multiple major competitions and is known for her fierce competitiveness and technical skills.

Seychelle Hattingh:


A US athlete who has been a standout performer on the international circuit, winning numerous titles and setting course records.

Angela Jackson:


A Hawaiian athlete who has won multiple SUP races and is known for her powerful paddling style and relentless competitive spirit.
These sup women, along with many others, have helped to raise the profile of women's SUP racing and inspire a new generation of female paddlers.
Sup Women vs men in the professional world of SUP
There are currently no reliable statistics available that provide a comprehensive comparison of men vs. women professionals in the stand-up paddling (SUP) environment. However, it is widely recognized that there is a gender imbalance in professional SUP competitions, with men typically outnumbering women in both participation and prize money. In recent years, there has been a growing effort to promote gender equality in the sport, including the creation of women's-only events and initiatives to support women in SUP. While progress has been made, there is still a long way to go to achieve true gender parity in the SUP world.
ANCHEER SUP Board, Stand Up Paddle Board 10', Inflatable Paddle Board (6'' Thick SUP board), iSUP Board Package with Adjustable Paddle, Leash Pump and Backpack
---
"Can I Surf That" movie trailer to premier May 2015 at the Colorado Kayak's Supply Paddlefest – Brittany Parker, Heather Jackson, Claire Chappell and Nadia Almuti have spent the last two years on the road working on this film.
---
---
Board for women – Paiwen Review
This all-around stand up paddle board IS truly designed and built for women. Its planer hull and ability to switch from one to three fins make it a dual purpose flat water or wave board. Be sure to demo this one—It may even exceed your expectations. I've read a review by a fellow who tried SUP surfing on his girlfriend's Paiwen. He raved about how well it handled the waves. But that is just one of it's strong points. It handles beautifully on flatwater.
This epoxy board is quality crafted and beautiful to look at. The ease of handling this 10' board is a real pleasure. This is my travel board when we get-a-way with our truck and camper. It happens to fit nicely on the camper bed in its custom fit cover so I don't have to strap it down.
Once I get it to the water it becomes my "magic carpet." The sum of its qualities is certainly impressive.
 The Paiwen board ... made for women
This is board is unique board ... it offers quality, beauty, and reasonable pricing in one complete package. see full review
---
---

Websites for SUP women
Paddle Diva

"Paddle Diva" is most certainly geared to encourage women. They offer yoga, teacher training, stand up paddle board lessons, and host paddle board tours and paddle board retreats just for women! You'll also find a healthy blog here, And be sure to watch the video supporting an important cause, that is, to protect our oceans.
Amagansett, New York, U.S.
website: https://www.paddlediva.com/contact-us/
View the following video to see Paddle Diva's Rincon retreat: 
---
---
---
---
Organized events
Women are a force when it comes to discussing SUP topics for organized events. According to SUP connect and other resources there are just as many women as men that are paddle boarding in organized events. Hence women are actively involved in public discussions to make the stand up paddle boarding world a better place.
In the following article (link below) Julianne Brackett is disqualified for drafting – you have an opportunity at the end of the article to write your opinion.
https://www.supracer.com/thunderbird-run-sup-race-winner-disqualified-for-drafting/
---
SURFSTOW SUP Handle:

This handle is a mainstay in my deck bag. If poor conditions force me off the water, I can walk back carrying my board with ease. Its SUPER SUCK feature has never failed (apply on a dry surface).
Find out more at the following link:
Surfstow SUP grip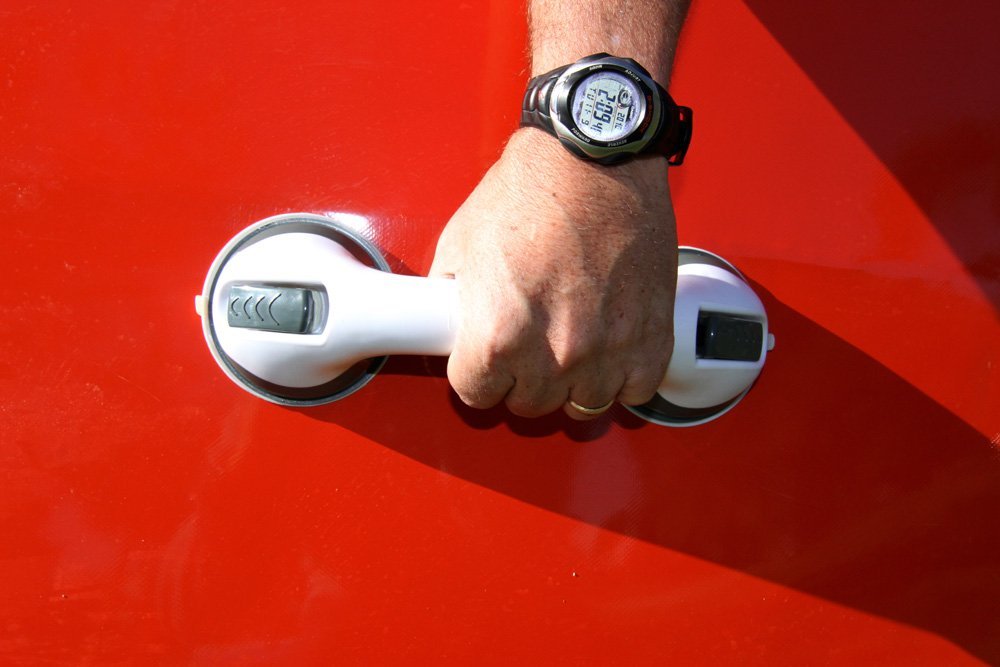 ---
Candice Appleby, Gillian Gibree, Rebecca Jakeway speak on stand up paddle boarding for women.
---
Two seniors enjoying a tandum paddling cruise on an inflatable SUP. 
Paddleboard Specialists – boards for SUP women
"Paddle board speclists" show a full page of boards suitable for women.
LINK: specialists.com/Womens-SUP-Paddleboards
Paddle Board Reviews
Reviews for women's SUPs
---
---
back to SUP fitness
Home – where it all began
---