SUP gear reviews
board bags
UV "Topless boardbag"
2018
NOTE: The UV "Topless board bag" has now been taken off the market by the owner.
DESCRIPTION
UV protection, Topless Boardbag
Comes in varying sizes:
Collapsable, foldable, SUP and Surf board cover
Designed for quick on/off
FIRST IMPRESSIONS

The stretch fabric used is super thick
Easily stretches twice as long as its relaxed state
The elastic within the outer edge casing also shows significant "stretchability"
Double layered fabric at nose and tail and reinforced fin opening
First impression oozes quality
Made in the USA
Note: there is a copycat made in China that is not at the same level of quality and does not have the same attributes as this original Topless Boardbag made in the USA.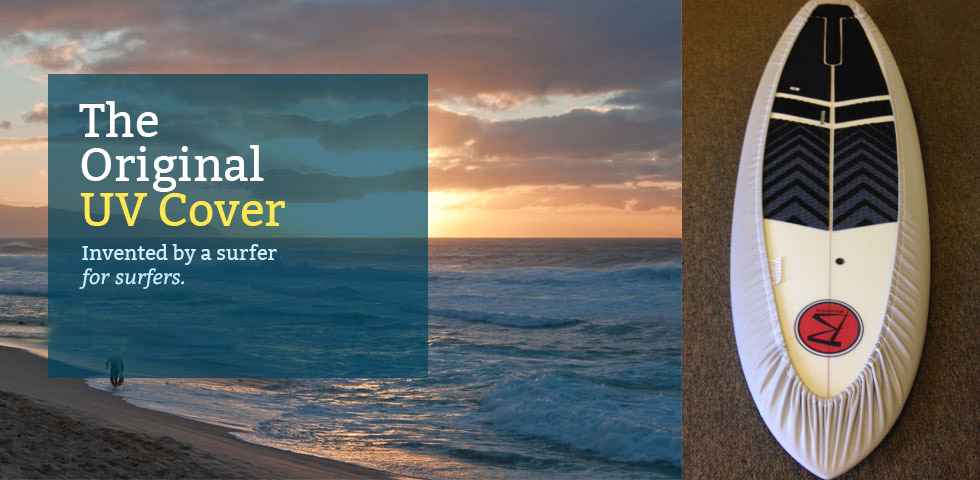 SPECIFICATIONS
Fits SUP board sizes: 8' – 9.6', 9.6' – 11', 11' – 12.6', 14' 
Fits Surfboard sizes: 8.6' – 10' 
"Topless Boardbag" states it keeps boards up to 30º cooler
Thick, heavy duty polyester and spandex      
WHAT I KNOW FOR SURE
I've been using two different sizes one to fit a 12.6' Boardwalks Raven2 and inflatable Red Paddle Explorer and the other for a 14' Surftech Bark Downwinder. The first one I've purchased was 2 years ago. They are used for camping and everyday on the house deck. These bags are quick to put on, keep your board cooler on a hot day, resists absorbing water from splashes or light rain, and they stay on. I especially appreciate these bags when I am camping and when the boards have to stay outside 24/7. If it does get wet from a hard rain, it is quick drying when the sun comes out. 
WHERE THIS PRODUCT REALLY SHINES
The service is excellent. When I ordered both bags, Geno Jenkins, the owner, personally emailed me because he had some concerns about shipping and bent over backwards to please his client (that's me). The shipping charge from USA to Canada was somewhat high at the time and this was Geno's first Canada shipment—Genoa gave me a free shipping discount. I guess you can translate that into  "beyond the call of duty". Based on my written words you can hear I was impressed. Integrity?—100%, Service?—100%. Quality?—100%. And lastly, this is a very fine product that does everything they say it does!
a) So far there is no sign of stretching out or wearing out from the the material or elastic in the casing. I use these bags seasonally from May – October. 
b) When the bag is removed it springs right back to its original size. Doesn't take much room to store
c) There is no resistance at all through the process of getting the bag onto your board.—Takes seconds
d) The fabric feels so significant that it appears it will take a good long time to wear down. Sun is always the killer in terms of deterioration for anything. The hours of sun exposure will be your measure for longevity.
e) Besides its technical attributes this bag is about as simple as it gets in design and function—no fuss. If it wasn't such a high quality item it would just be another stretch board bag. In other words, if you choose this bag, you are purchasing a high quality, high functioning board cover. This bag really shines! 
e) It doesn't replace a padded, zippered board bag, but it wasn't designed to. Instead, it has an important (in-between) niche in terms of board protection—one that is very appreciated.
| | |
| --- | --- |
| 12.6' race board bag shown above. $99.95 | 14' race board bag shown above. Fits 24 - 28" wide. $109.95 |
| | |
| --- | --- |
| 9'6" - 11'' sup shape shown above. Fits up to 33" wide. $99.95 | 11' - 12'6'' sup shape shown above. Fits 28 - 33" wide. $99.95 |
---
Riviera Paddle Surf race board SUP bag

DESCRIPTION
12 ft. 6 in. Riviera Paddle Surf race board SUP bag

QUALITY
Excellent  

Thoughtful design

Sturdy materials 
SPECIFICATIONS
SIZING
this 12 ft. 6 in. bag fits a 12 ft. 6 in. Raven 2 perfectly.

WHAT I KNOW FOR SURE
This bag is impressive. It has plenty of foam padding, sturdy materials and parts with 10 strong side wall cinch straps to create a custom snug fit. 

Absolutely no "flippy flopping" loose space like so many other bags. 

The zipper opening extends the full length of one side and continues to approximately 16 in. around the nose and tail and on to the other side making it very easy to flip the top back for full open entry of a board. 

The fin zipper opening is 24 in. long with an impressive two-way opening 

Both the bottom and top have a smooth water and dirt resistant surface. 

A quick wipe and its clean. 

The side walls are more like a tarp style of fabric that stand up to a beating. 

Plenty of reinforcement straps sewn down through the centre top, bottom, and sidewalls to prevent rips and tears when using the handles. 

There are two vents for hot air release, one on each side.

The mesh sleeve inside will easily fit any size fin. 

Carry handles everywhere! There are 4 actual handles and the two straps at the nose and tail that can also be used as carry handles.
NOTE:
We can't say enough about this board bag. It travels well and takes a beating with out complaint, fits snug and looks good. Great job Riviera! 
---